Our dental practice offers children's dentistry Leamington Spa because we want the next generation of patients to understand the need for regular dental care. We encourage parents to bring their children in from as young as one year old. The best time to bring them is when you have your own appointment so that they can see mummy or daddy sitting in the big chair without any worry. If mum and dad are okay with it, it will make your child feel more relaxed and comfortable when it's their turn. The earlier that children are introduced to the dental practice where they are exposed to the sights, smells and noises associated with a dental surgery, the sooner any apprehension of visiting the dentist will be removed.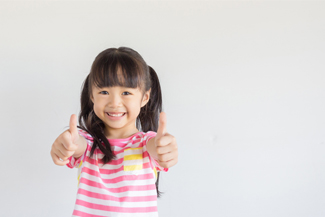 Training in paediatric dentistry
Part of Dr Kutty's paediatric training and experience was gained while in a post at King's College London. Couple this with the fact that there has been a dental practice on this site for over one hundred and fifty years and you soon realise that we are more than capable of taking care of your children's dental health here in Leamington Spa.
Treating the next generation
Children's dentistry Leamington Spa is conducted by an experienced team who are committed to practising preventive dentistry. A child's starting point is their introduction to what dentistry is really all about. Visiting us at a young age allows us to educate them in the correct way to clean their teeth and gums. We can identify any problems that may manifest themselves at a later age and we can help them to establish a proper, regular maintenance and care routine. This stage is vital and parents and dentists alike must work together to achieve the goal of our youth living with healthy teeth and gums and fewer invasive dental treatments later. Early diagnosis of jawline and teeth misalignment are crucial, as the earlier these conditions are identified the easier it is to treat them.
Technology and science play their part
Modern technology and dental science have made enormous strides in many areas, none more so than the invention of more painless techniques. There are still patients who are apprehensive about visiting the dentist and we want to remove that element of fear of the dentist. The best place to start is with children who will grow up to adulthood with fewer dental problems due to proper early dental care. As technology progresses so treatment will improve and as more and more painless procedures are introduced dental apprehension will become a thing of the past.
Keeping up to date
Our staff who carry out children's dentistry Leamington Spa regularly attend conferences and training on new equipment and techniques, ensuring that we are always up to date. If the last decade in dental science advancement is anything to go by we expect the next decade to be even more positively dramatic. We are here to educate and advise, as well as providing contemporary dental treatment, because we all have the same goal of a generation growing up with healthy teeth and gums, and therefore leading a healthy life. There is nothing more satisfying for us than seeing your children leave our practice with a radiant, confident smile.