Do you think you look a bit more tired and weary now that winter is coming to an end? Is your age starting to show and you'd like to do something about it?
At Leamington Spa Dental Practice in Royal Leamington Spa, we use dermal fillers to help bring tired looking faces back to life.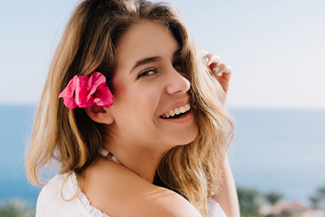 Dermal fillers are injections of hyaluronic acid that help to fill out areas of the face that have lost their natural plumpness and are starting to look wrinkled or hollow.
Hyaluronic acid is a natural acid produced in the body. It is used to lock in moisture, so you find it in the skin, giving it that plump and dewy look. It's also found in the joints, keeping cartilage moist and making joints easier to use.
When we use it on the face, we inject tiny amounts of dermal fillers into wrinkles and hollows. There are various different brands of fillers. At Leamington Spa Dental Practice, we use Juvaderm.
Most of our patients ask to have dermal fillers put into the lines that run between the nose and the mouth, lines around the lips and also the lines that run from the mouth down to the chin. It's also great on the backs of the hands.
When you have the treatment, there might be a bit of bleeding, which is normal. You must also take precautions, such as avoiding extreme facial expressions, after the treatment to allow it to settle down.
You will be able to see a difference straight away after having the treatment, but it will continue to develop over the next 2 weeks, after which you will see the full effect.
We like you to come back for a follow-up appointment 2-3 weeks after your treatment so that we can make sure everything is OK, or if you need a bit more product. This is to make sure you will get the full value from your treatment.
You can expect your treatment to last for about 6-8 months, although treatments on the lips don't last as long.
Why not book a consultation and see how dermal fillers can lift your face?