Just as you can get a makeover for your wardrobe, your car, your house or your garden, you can also get one for your smile.
Here at Leamington Spa Dental Practice in Leamington Spa, we have a specific cosmetic dental treatment package called a smile makeover. Generally speaking, a smile makeover is a combination of 2 or more cosmetic dental treatments. However, what elevates the smile makeover is that instead of coming at cosmetic dentistry piecemeal, we plan a course of treatments that is specifically designed to bring out the best in your smile.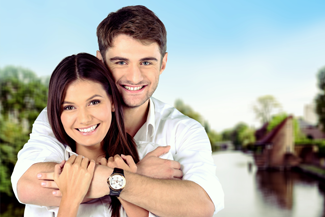 When we plan a smile makeover, we are looking at your teeth in a different way from when we are carrying out general or restorative dentistry. Here, our aim is to bring a sense of balance and harmony to your teeth and gums, in relation to each other, to the size and shape of your jaws, and also in relation to the size and shape of your face. Beauty is all about ratio and harmony. We will be looking at the size, shape, position and colour of your teeth, and also your gums.
We start from the basis that your teeth are in good condition, so if you need any restorative work such as fillings, we will do that first.
Planning
During the planning consultation, we will talk over with you what kind of results are you are looking to achieve. Then we will take a detailed look at your teeth, taking photos and x-rays.
We will use all this information to put together a written treatment plan, including costs, for you.
Once you have approved the plan, we can get going on the treatments. We may be able to start straight away.
Some treatments take longer than others. For example, if you are going to have some teeth replaced with dental implants, it will take a few months, as there is several weeks healing time involved in the middle of the process. Other treatments, such as teeth whitening, can be completed in around an hour in the dentist's chair.
Make 2019 the year your smile gets a makeover and come in for a consultation with our cosmetic dentist.
You've seen the beauty makeover, the clothing makeover, the personality makeover, the house makeover, but have you ever considered having a smile makeover?
At Leamington Spa Dental Practice, we love seeing how smile makeovers in Leamington Spa can transform people's looks and their lives.
It's no fun living with a dodgy smile. In fact, when the smile has got so dodgy that you can no longer use it, you are being deprived of one of your most important tools of non-verbal communication. This is what you use when you meet people for the first time. It's what they use to form their first impressions of you with. That may not sound too awful, but in certain situations, such as job interviews, first dates, or meeting the in-laws for the first time, it could be a make or break situation.
Try it out next time you go out and about in Leamington Spa. Become aware of how often you would like to smile but don't, or how often you cover your mouth with your hand. Another good thing to become aware of is how much you respond to other people's smiles and what that feels like. Do you notice yourself warming to people and making positive judgments about them when they smile at you? Do you notice yourself making negative judgments about others when they don't smile? Does it affect how you behave towards them? Try it on the bus.
Now that you have tuned into how much importance we subconsciously place on smiling, would you like to come in for a consultation for a smile makeover? We can take a good look at your teeth and gums and, using x-rays and photographs, we can show you which treatments can be used to bring out the full potential of your smile. Treatments might include veneers, composite bonding, whitening and even discreet braces.
So why not make your makeover for 2018 be for your smile. Think of all the wear you will get out of it! You'll be using it day in, day out for the rest of your life. Work out the cost per wear on that!
Put yourself in the hands of someone who knows how to get the most out of your smile and you might be surprised at what we can do. At Leamington Spa Dental Practice, we want to refine large and small aspects of your smile to give you a complete smile makeover in Leamington Spa.
It all begins with a consultation so that we can get an accurate picture of where you are and where you want to go. We will offer a number of suggestions after this and discuss them thoroughly with you. You will then be in a great position to make a well-informed choice about what you want to do next. The final decision is yours and we make sure that you feel in control every step of the way. We achieve this by offering a detailed timetable of treatments, explaining what will happen at each appointment and by letting you know about all costs up front.
Your smile makeover in Leamington Spa will feel like an integrated process where each treatment compliments or enhances the others that you choose to have, often creating a more dramatic overall effect. This is one of the benefits of planning them all at the same time.
Sneak preview
At Leamington Spa Dental Practice, we like to keep up-to-date with the latest developments in dental technology. This is because we are passionate about our work. We are always looking to make improvements to the services we offer our patients.
You can experience one of our favourite gadgets when you have a smile makeover in Leamington Spa at our clinic – a sneak preview of your smile. We gather together all the information we need from your mouth including, where necessary, x-rays and feed it into the computer. This will create a 3D image of you smile that we can then apply treatment plans to so that we can all see what will happen. For some patients, this is the motivation to start because they have been able to see just how good it will look in the end.
You have all this and more to look forward to when you treat yourself to a smile makeover with us. We look forward to helping you shine.